FLEXIBLE LITHIUM BATTERY – Characteristics
Flexible lithium battery is thin battery produced at 0.4~0.5mm of thickness.
It is designed to fit a built-in card. Flexible lithium battery having, high output current, high energy density, wide range of operation temperature and long term shelf life is an attractive product to be able to adopting various fields.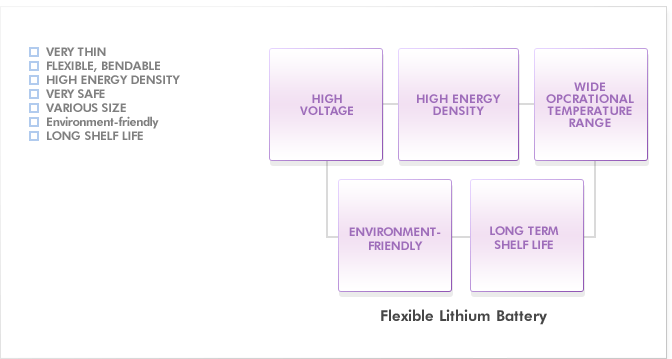 - Flexible lithium battery has 3V level of voltage, and shows high energy density.
- It is a very safe product that passes the UL standard. (UL1642).
- It could be plugged inside the ISO standardized cards, and has passed card bending test standards (ISO7816).
- It is relatively free to change the size in manufacturing process, producing in different sizes for consumers' needs.
- There are no environmentally restricted metallic substances as standardized in RoHS.
- It is a battery with more than 5 years of long term shelf life.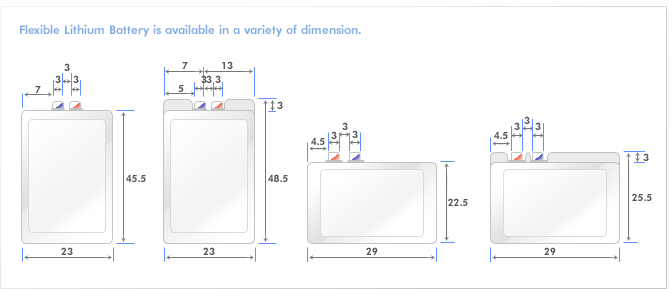 FLEXIBLE LITHIUM BATTERY – Model & Specification
MODEL

IMAGES

FEATURE OF PRODUCT

DATA SHEET

FL234540

Nominal Voltage: 3V
Thickness: 0.45~0.47mm
Capacity: 18~25mAh
Applications: OTP card, Security card, Traffic/credit card, RFID tag, etc.

VIEW

FL314540

Nominal Voltage: 3V
Thickness: 0.47~0.50mm
Capacity: 20~30mAh
Applications: OTP card, Security card, Traffic/credit card, RFID tag, etc.

 

FL292240

Nominal Voltage: 3V
Thickness: 0.45~0.47mm
Capacity: 10~14mAh
Applications: Gift/Royalty card, OTP card, Security card, Traffic/credit card, RFID tag, etc

VIEW
:
Product specyfication summary

Model

Produkt Code

OCV (V)

Capacity (mAh)

Dimension (mm)

Weight
(g)

Remarks
(Attachment /
Card lamination)

Width

Length

Thickness

FL234540

FL234545ETCL-18

3,2

18

23

45,5

0,45

Approx 0,7

Welding/Cold

FL234545ETHL-18

Welding/Hot

FL234545SECL-18

ACF/Cold

FL234545SEHL-18

ACF/Hot

FL234547ETCL-25

25

0,47

Welding/Cold

FL234547ETHL-25

Welding/Hot

FL234547SECL-25

ACF/Cold

FL234547SEHL-25

ACF/Hot

FL292240

FL292245ETCL-10

10

29

22,5

0,45

Approx 0,4

Welding/Cold

FL292245ETHL-10

Welding/Hot

FL292245SECL-10

ACF/Cold

FL292245SEHL-10

ACF/Hot

FL292247ETCL-14

14

0,47

Welding/Cold

FL292247ETHL-14

Welding/Hot

FL292247SECL-14

ACF/Cold

FL292247SEHL-14

ACF/Hot
FLEXIBLE LITHIUM BATTERY – Technical Information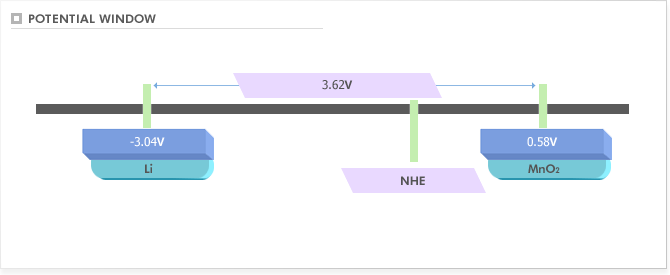 Battery system: Li/MnO2 primary

Nominal voltage: 3V

Thickness: 0.4~0.5mm

Specific capacity: 3 ~ 5.5mAh/cm2 -active area

Operating temperature: -10 ~ 60℃

Shelf life: 5year @RT(Less than 15% capacity loss for 5 years)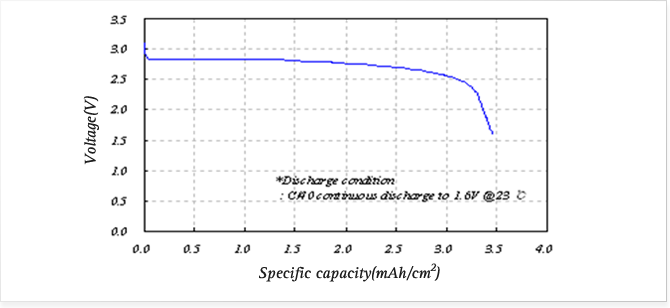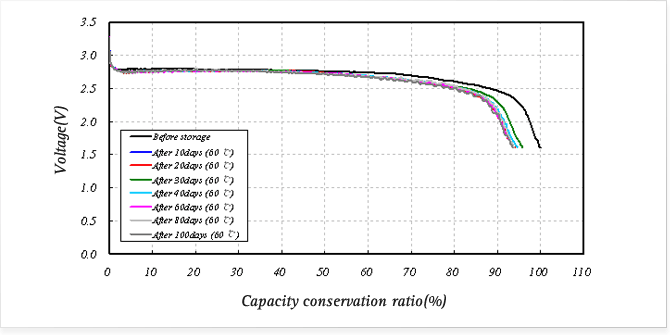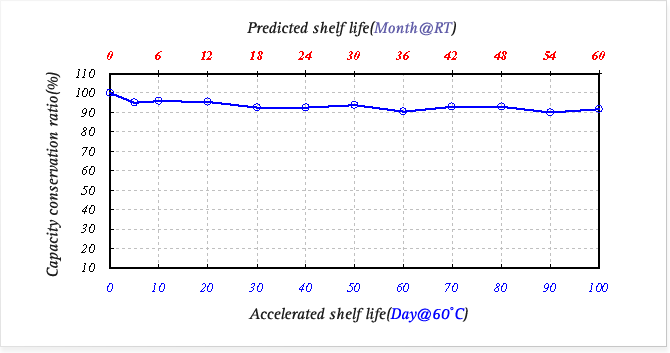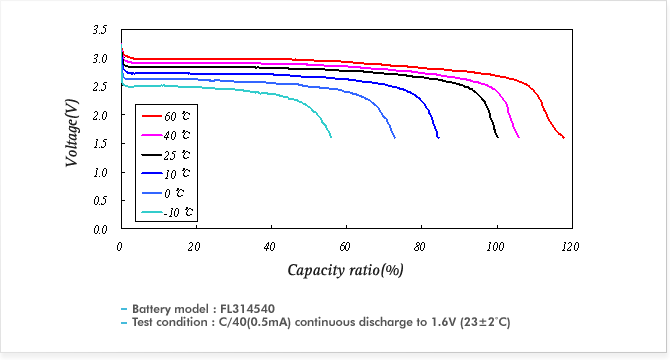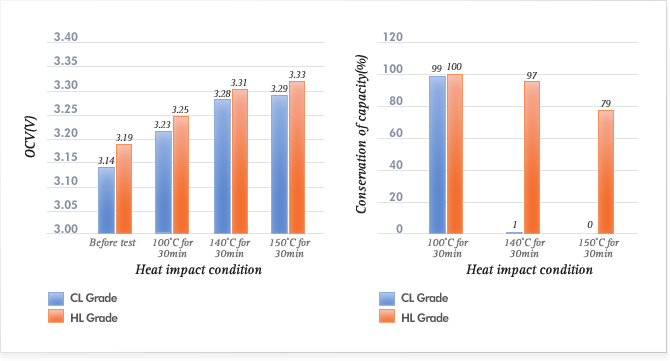 FLEXIBLE LITHIUM BATTERY – Applications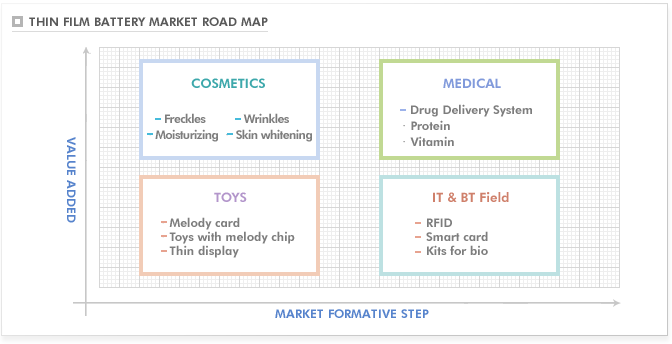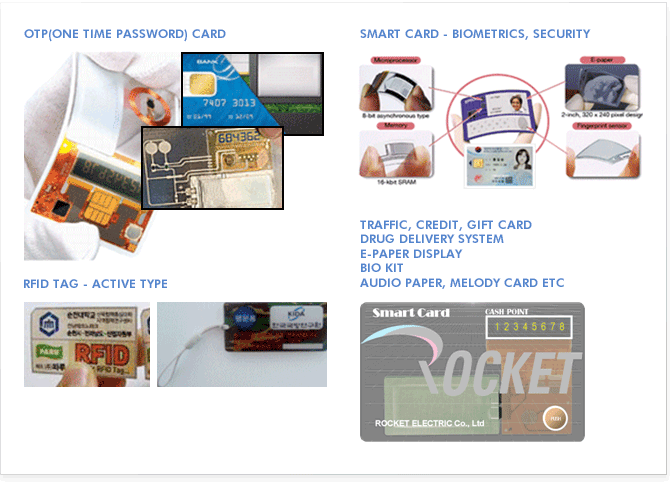 ---